Back to Blog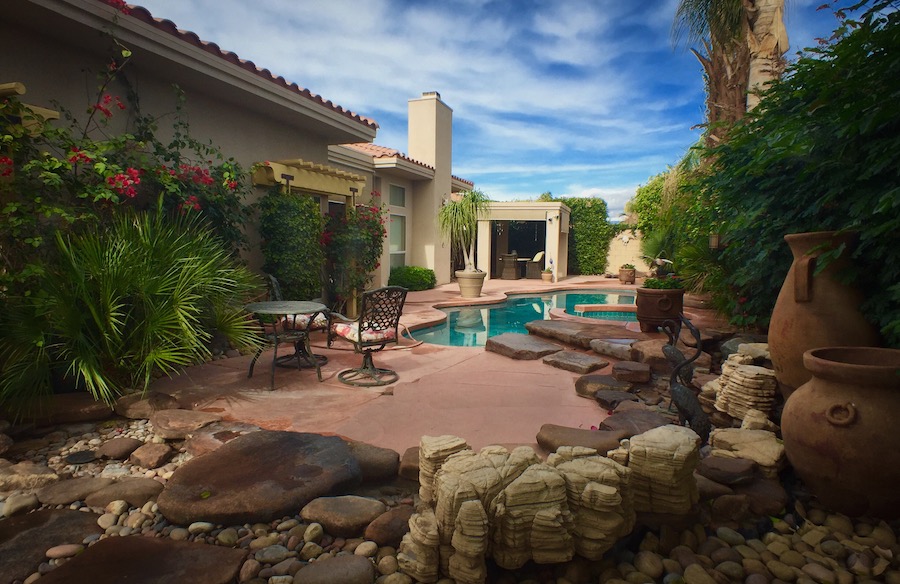 Elevate Your Backyard with an Inground Pool
Canada is famous for many things, but if there's one thing we got more of than most people, it's space. Did you know that every Canadian could get 1/4 square kilometre all to themselves?
Trouble is, backyards that feel like the prairies aren't too appealing. To make your backyard look good, you need to give it a focal point. It needs features that catch the eye and keep the family entertained.
Backyard inground pools are a great addition, as are decks and gazebos. Let's explore exactly how you can make the most of your slice of Canada.
Clean Layout
A backyard transformation starts with a great layout. Leave it to chance and it'll end up cluttered and undefined.
Create a distinction between different sections, much like you would zone an open plan interior. There should be areas for:
Sitting and chatting
Outdoor cooking and eating
Entertainment (think pool)
Cooling off
Strong lines created by pathways and clear edging to lawns and planting help to keep the layout clean. Once these zones are clearly defined, you can begin to think about planting.
Nice Landscaping
Awesome landscaping involves choosing a theme and working with a designer to make that a reality.
Think about styles that would complement your home. Is mid-century chic the way forward? Or would including some traditional elements be more appropriate?
Adding water is a great way to add different textures to the yard. A pond can attract wildlife, and an outdoor pool means endless fun for the family. Smaller yards can include water features that reflect the light beautifully and help reduce stress.
Build a Deck
What's an outdoor pool without a stunning wraparound deck? Half the fun of the pool is watching your kids and other people enjoy it while you catch a few rays on a sun lounger. Build a deck and you bring that dream to life.
There are so many great options, including different types of wood and ingenious designs. It's not all straight boards anymore. Chevrons, anybody?
Decks also make a great transition from home to garden. The softness and warmth of the natural timber make them more appealing than hard patios for families with small children.
If your house and backyard are on slightly different levels, a stepped deck can seamlessly bridge that gap.
Have a Gazebo
Gazebos create height in a backyard, as well as a practical spot to shelter during light rain. They can be decorative and a feature in themselves, especially if you choose an eye-catching hexagonal design.
They can be a place for adults to retreat to, while still keeping an eye on the kids using the pool. Take that to the next level with a swim-up gazebo.
They make a great spot for dinner, or for relaxing with sumptuous outdoor furniture. The best part is that it's weatherproof, so you can store your furniture inside during the summer.
Add Some Lights
Outdoor lights are not just about safety. They create ambience, as well as effectively zoning your backyard at night.
Give careful thought to the areas you want to highlight.
Start with safety. Pools, steps, and spas need to be lit, and inground pools come with lighting options. It's good to think about this before pool construction begins; retrofitting pool lighting can be expensive.
Next, move on to the perimeter of the pool. Soft lighting helps to keep the pool area defined, without dazzling night swimmers.
How about adding some grandeur to your gazebo or dining nook? Outdoor chandeliers come in a huge range of sizes and styles, both contemporary and traditional.
Get an Inground Pool
Nothing says backyard luxury like inground pools. Why head off to resorts, when you can create one in your backyard? Bonus: you get to decide exactly whom you share it with!
Adding an inground pool starts with a visit from a professional landscape designer. They'll take into account the proportions of your plot and what would make the best use of the space. They'll consider how to place the pool so that it complements, rather than dominates, the yard.
Pools can have so many functions. A place to play, sure, but with a little mood lighting, it's also a great backdrop for romantic meals. Edgewater Pools will be able to suggest features and highlight possibilities you never knew your backyard had!
Add Furniture – Outdoor Living Room
We used to associate outdoor furniture with unforgiving cast iron or plastic that made you feel gross in the summer. Now you can experience the same level of luxury you're used to indoors, with modern fade- and mildew-resistant fabrics.
Features that work great indoors can work outdoors too. Think mirrors, outdoor rugs, and decorative touches. And don't forget illumination. Lighting should be enough to read or play games by, but low enough to let you enjoy conversations al fresco long into the night.
Have a Firepit
There's something about a fire that speaks to all of us on a deeper level. Fires draw people in, they spark conversation, and they provide much-needed warmth as the Canadian summer draws to an end.
With supervision, a backyard firepit is the perfect place to make s'mores with the kids. At night, they're a source of light, plus they allow you to continue using your backyard later in the year. They're also the perfect place for evenings for two.
Backyard Inground Pools Take Yards to Another Level!
Your backyard should not be a vast, open space. It should be a haven, a sanctuary, a place of fun, and a place for romance.
Backyard inground pools elevate the luxury of your home in a way few other features can. They're super practical, allowing you time together as a family all summer long. Plus, they make a beautiful focal point for your landscaping.
At Edgewater Pools, we specialise in inground pool installation. We have over 20 years of experience in bringing unforgettable pools to the people of Ottawa.
Call 613-801-8543 or contact us online to request a consultation today.