Back to Blog
Options for Designing Luxurious Backyard Landscapes
Change the way you view your outdoor living space this summer by upgrading your backyard landscape.
While a backyard patio set and BBQ were all you needed when you first set up your backyard, it's now the perfect time to upgrade your space and give it a luxurious look and feel.
A few upgrades to your backyard landscape can make a world of difference when it comes to how you use and enjoy your backyard.
With backyard and pool landscaping, the options are endless.
There are many possible combinations of landscape, garden, patio, and pool designs. You can have a custom backyard landscape specifically suited to your space, use, and preferences.
Taking Your Backyard to the Next Level
Whether you want to upgrade your patio or add a custom pool and sauna, you transform your backyard into an oasis with the right landscape design.
Install an Outdoor Kitchen
Imagine being able to cook, serve, and entertain guests outside without having to run back and forth between your kitchen and backyard. An outdoor kitchen adds convenience and luxury for those who love to entertain and being in the outdoors.
Your outdoor kitchen can include a grill or a gas line BBQ, a sink, a mini-fridge, drawers, cupboards, and more. It can also have ample counter space to serve as a bar while being covered by a pergola for shade on those sunny afternoons.
Upgrade Your Patio Furniture
Investing in new patio furniture can be a quick and easy way to transform your backyard into the outdoor living space you want to spend quality family time in.
Consider adding an outdoor sofa, comfortable chairs, and an outdoor dining set to spruce up your outdoor décor.
Create a Relaxation Area
Setting up separate areas in your backyard can really make it feel like a luxury retreat.
You can dedicate one area of your backyard to total relaxation. This could be a spot suitable for yoga and meditation or hang hammocks to read and nap in for a complete relaxing escape.
Install a Pond
A pond, especially with a waterfall or fountain, will create a soothing atmosphere in your backyard. The sound of trickling water can block out surrounding noise and help you immerse yourself into the serene landscape.
Install a Custom Pool and Spa
For the ultimate experience, upgrade to a custom pool and spa in your backyard. This mini-escape will boost your backyard enjoyment from good to out of this world.
Pools and spas provide the best setting for relaxation, entertaining, and getting away all in the comfort of your backyard.
Custom Design: Landscaping, Pools, Spas, And Hot Tubs
Custom pool and spa installations are the crème de la crème of high-end backyard landscapes. Here's what you need to know when considering upgrading your backyard with a custom pool and spa so that your design fits seamlessly with the rest of your property.
Pool Landscaping
To create the ultimate backyard oasis, combine your pool and backyard landscaping design. Professional landscape designers and pool builders will help plan your new backyard, taking into consideration the space you have and the extra features you need.
There are endless options for custom pool features, design styles, backyard and pool lighting fixtures, patios, gardens, pathways, and outdoor living spaces.
Pool Shapes & Sizes
Designing custom pools and spas will suit your style and fulfill your backyard design needs. You can select a pool that takes up most of your backyard space or one that is a bit more modest in size allowing for more alternative uses for your backyard.
Spas & Hot Tubs
Imagine coming home after a long day and relaxing in a custom spa or hot tub built for you in your very own backyard. Not only is this one of the best ways to unwind but there's also an added value of convenience and pleasure knowing you can use it whenever you feel like it.
When choosing the location of the spa in your backyard, consider privacy, proximity to your home, and the amount of shade or sunlight you want.
Backyard Structures
Gazebos and pergolas are ideal for covering outdoor living spaces, hot tubs, and spas since they provide privacy, shade, and protection from the elements.
Gazebos
Gazebos are freestanding structures with a complete roof to provide protection from the elements. These also offer a perfect view of the backyard, with options for panels, walls, and curtains for extra privacy.
Pergolas
Pergolas are open structures built on a frame of vertical posts, cross beams, and an open-lattice roof. Pergolas provide shade and a decorative design to your backyard.
These can come with a retractable canvas shade or screens for extra shade and protection from the elements. Plant-climbing vines are another appealing addition to pergolas for shade and aesthetics.
Hot Tub Surrounds
Spa or hot tub surrounds are structures that enclose the walls of hot tubs to provide a built-in look. Custom surrounds come in various materials and designs to suit your spa and backyard space.
You can install a spa on your deck, in a gazebo, under a pergola, with an in-ground pool, or on its own with a surround. Just make sure to find a quiet, relaxing place for installation, and add some plants to your landscape to provide the feeling of a backyard escape.
Water Features
A water feature in your pool and spa will make your backyard look and feel like a serene natural setting. Water features are versatile in design, and include:
Saunas
A sauna installation in your backyard will allow you to enjoy the many health benefits of the Nordic spa cycle. This involves heating up your core body temperature in a sauna and plunging into a cold pool to trigger an immune system response and boost your overall health.
This is followed by relaxation in a spa or hammock is sure to melt away your stress. The cycle can be completed up to three times for optimal results.
Landscaping Tips to Refresh Your Space
Consider adding greenery and colour to your landscape to refresh its appearance. Whether you add grass, shrubs, flowers, or trees, vegetation can go a long way for providing added privacy and bringing life to your backyard.
If you're in for a total upgrade, or you want to start small, keep these pool and backyard landscaping tips in mind. When designing your new backyard space, you can create your own beautiful backyard oasis with the endless landscaping options.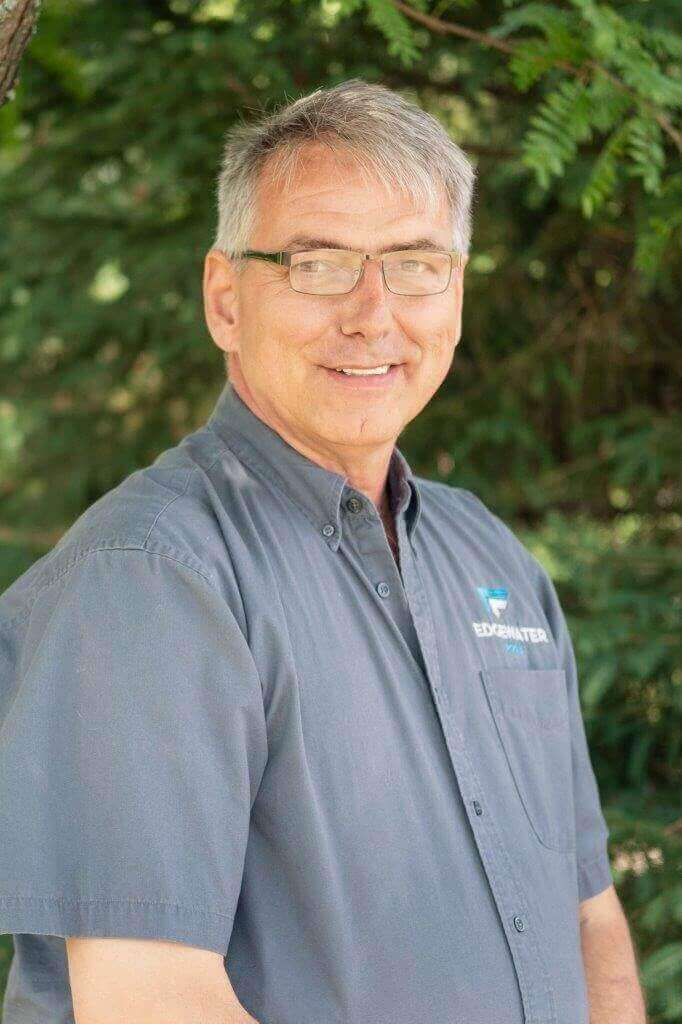 Bert Minor has been a part of the landscaping business for nearly twenty years and has gained an excellent reputation as an innovative and creative designer. In fact, several of his designs and projects have been featured in industry supplier magazines. An active and contributing member of the industry, Bert sat on various boards including the Ottawa Chapter of Landscape Ontario and the Landscape Ontario Provincial Construction Committee. Bert also contributed technical articles published in the Canadian National Landscape Association magazine. With a relentless pursuit of knowledge, Bert has attained several industry certificates in landscape design, landscape construction and with the PHTCC—Pool and Hot Tub Council Canada. Prior to joining the landscaping industry, Bert spent several years in management in the services sector primarily in a customer advocate role. His honesty and integrity and his ability to build and develop strong relationships with clients reflects that.