Back to Blog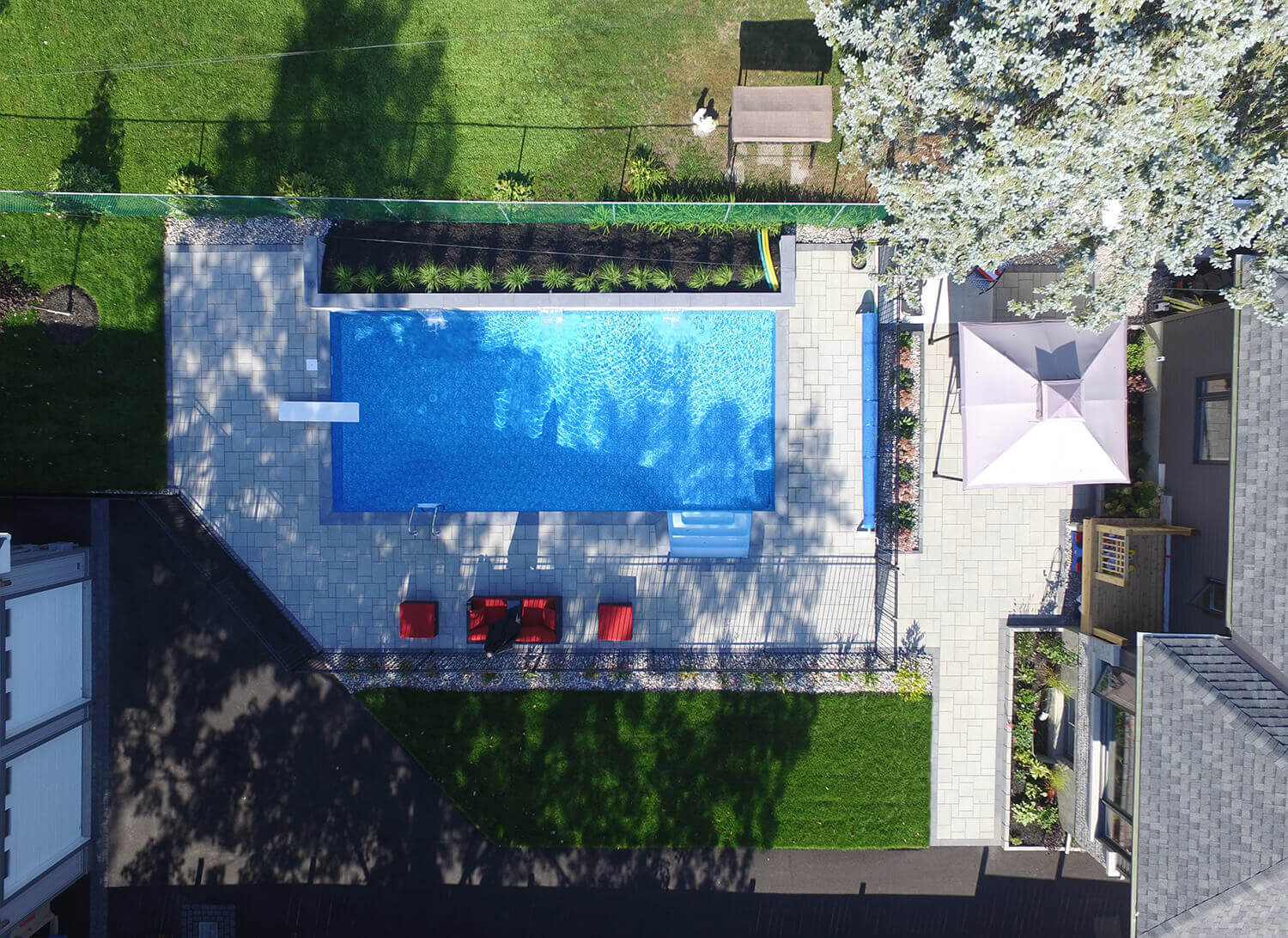 How to Enjoy Summer Vacations Without Leaving Your Home
Have fears over the Coronavirus putting your summer travel plans on hold? Why not have the ultimate staycation in your own backyard by building your dream outdoor oasis?
With all the features of a summer getaway in your backyard, you can make the most of your summer vacation at home, so that you can stay safe and healthy, and relax without fear.
Landscaping Ideas
Whether you already have a pool or you're planning to build or renovate your pool, here are the top landscaping ideas to complement your pool and turn your backyard into your dream outdoor oasis.
Re-Do Your Patio
If your patio is in need of a fresh look, consider stamped concrete or interlocking stone pavers for a modern luxury finish.
You can also contour your patio around your pool to accentuate the shape of your pool and upgrade the look of your backyard.
Since you will be spending a lot of time on your patio, upgrading your patio furniture will also help improve the look and feel of your new backyard getaway. So consider furniture that is both comfortable and beautiful so you can enjoy your escape to the fullest all summer long.
Fencing or Privacy Wall
Privacy is key for a true escape. And it's easy to get the privacy you need with a fence or privacy wall.
There are many options to suit backyard landscape designs. And you can get creative with fencing and wall ideas, which include:
Bamboo
Stained wood panels
Rock walls
Concrete
Garden walls full of climbing plants
Modern black aluminum walls with brick pillars
A privacy wall made up entirely of tall plants, hedges, shrubs, or trees
Decking
Wood decking around your pool or beside your home is another popular option for seating and dining in your backyard. Decking around an inground pool is an especially great option to save space in smaller backyards.
And, if you have a larger backyard, you can create multiple areas to sit and socialize with a wood deck, a stone patio, and a pergola or gazebo.
Hardscapes
Stone walkways in your garden and leading up to your pool will be reminiscent of cottage paths and stepping stones by the lake.
Hardscapes can also include rock borders, rock gardens, rock walls (with or without waterfalls), and rock formations to bring nature to your backyard, along with stone pillars and seating around fire pits.
River rock gardens are also a very low-maintenance garden bed option that can complement and accent your pool.
Pergola
Sipping coffee under a pergola on a lovely summer morning is a perfect way to start the day during a staycation.
A pergola provides just enough shade while offering views of the sky. And if you want to be draped in beautiful, fragrant flowers, you can grow flowering vines on your pergola.
Gazebo
A gazebo can have multiple uses in your backyard while adding a touch of elegance. Along with providing shade from the hot summer sun, gazebos keep outdoor furniture dry, so you can set up comfy couches, day beds, and cushions without the worry of rain soaking them.
And if you want to have a great waterfront view, consider building a gazebo poolside that can be a swim-up gazebo as well.
Garden and Greenery
Being surrounded by greenery will make your backyard feel more like a peaceful, tranquil escape, even if you don't live out in the country.
And with the right landscape design, plants, trees, shrubs, grasses, and greenery can enhance the look and feel of any backyard, transforming it into a true oasis.
Consider plants surrounding your pool area or lining pathways in your backyard for lush textures and splashes of colour.
Outdoor Kitchen
You can spend as much time as you want in your backyard, enjoying the fresh air with an outdoor kitchen. With a BBQ or grill and countertops for food prep, it will be easy to cook and dine outdoors.
You can even include a mini-fridge, sink, and bar for added luxury and convenience.
Fire Pit
Sitting around a campfire at night is a staple for Canadian summers at the cottage or campsite. And you can bring this cottage staple to your backyard with a beautiful fire pit.
A fire pit by your pool or as the centrepiece of your outdoor seating area will create a warm illuminating glow under the stars all summer long.
A fire pit can also be used to extend your patio season by keeping you warm well into the colder months.
Consult With an Experienced Professional
A professional landscape designer can help make your backyard dreams a reality, creating the right landscape and hardscape design to complement your pool and transform your backyard into a true oasis.
You don't need to travel far to enjoy a relaxing vacation surrounded by nature. Instead, you can bring the cottage to you with a few upgrades to your backyard pool and landscape.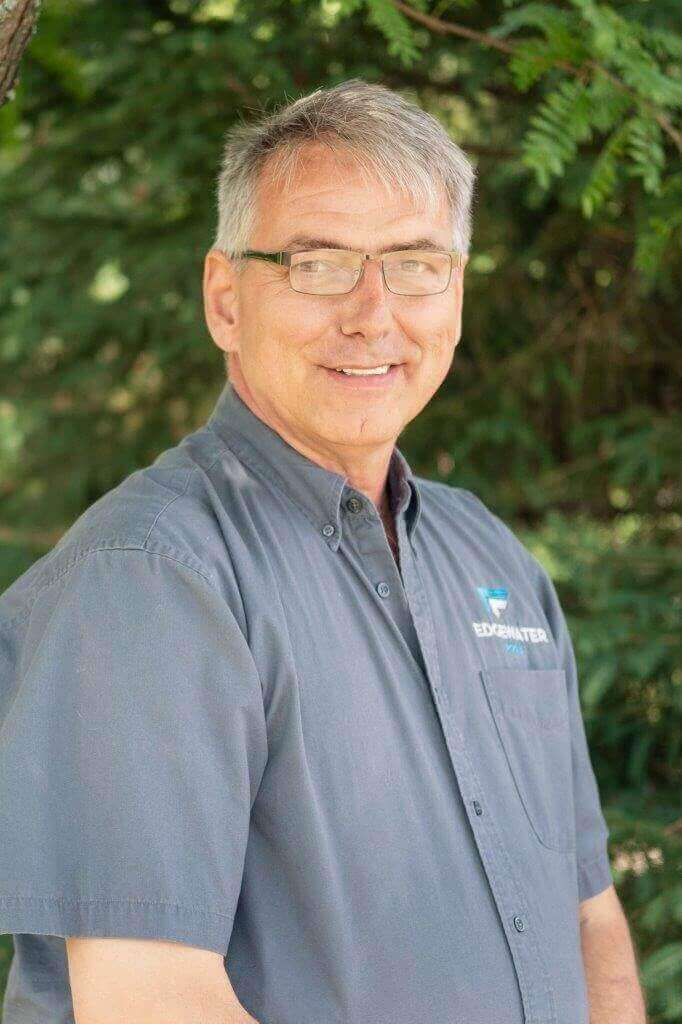 Bert Minor has been a part of the landscaping business for nearly twenty years and has gained an excellent reputation as an innovative and creative designer. In fact, several of his designs and projects have been featured in industry supplier magazines. An active and contributing member of the industry, Bert sat on various boards including the Ottawa Chapter of Landscape Ontario and the Landscape Ontario Provincial Construction Committee. Bert also contributed technical articles published in the Canadian National Landscape Association magazine. With a relentless pursuit of knowledge, Bert has attained several industry certificates in landscape design, landscape construction and with the PHTCC—Pool and Hot Tub Council Canada. Prior to joining the landscaping industry, Bert spent several years in management in the services sector primarily in a customer advocate role. His honesty and integrity and his ability to build and develop strong relationships with clients reflects that.