Back to Blog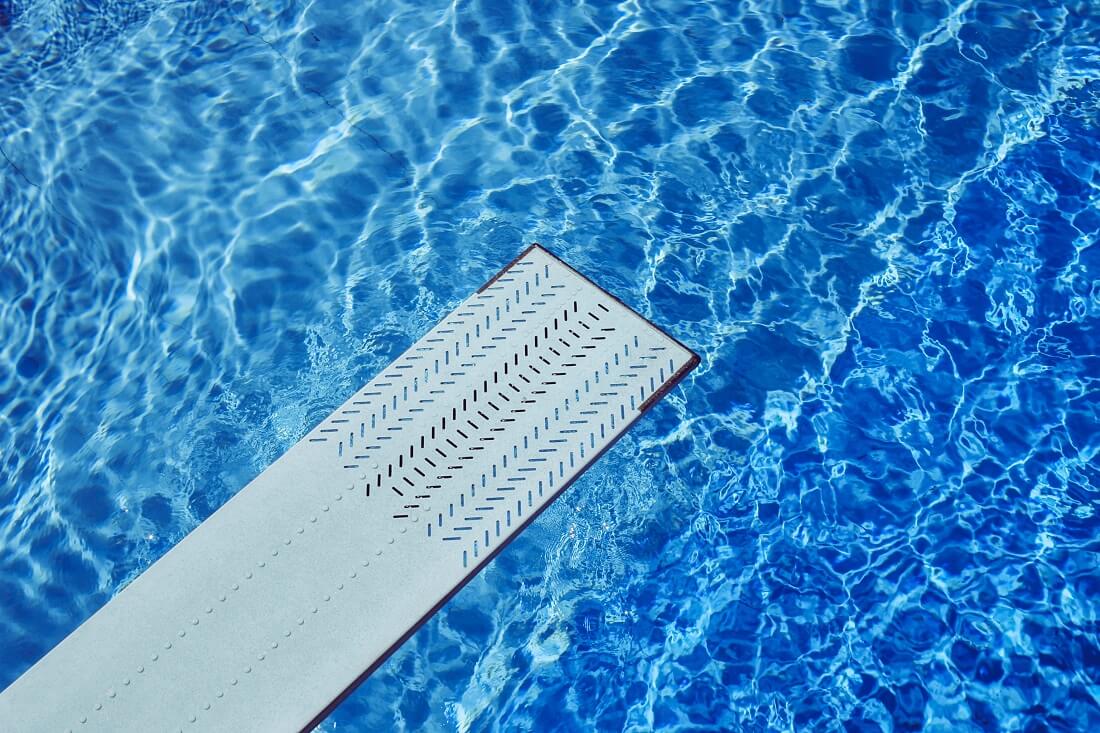 A Look at Why Diving Boards Are a Thing of the Past and Alternative Custom Pool Designs that Have Taken Over
Are diving boards becoming a thing of the past? Over the last 10 to 15 years, we've seen fewer pools with diving boards. So what gives?
These days, homeowners are opting for backyard oasis pools—pools that are the centrepiece of luxurious backyards with gorgeous patios and seating areas.
Diving boards are simply not a priority anymore, especially when pool owners can enjoy so much more in their backyards with the endless inground pool landscaping ideas, and without the headache of building a pool to accommodate a diving board.
Here's a look at the top 5 reasons diving boards are becoming obsolete, along with 10 diving board alternatives to add more fun and engaging elements to your inground pool.
5 Reasons Diving Boards Are Going Extinct
Here are 5 reasons why diving boards are no longer desirable for pool owners and have lost popularity over the years:
1. Insurance Coverage Issues
Sometimes, having a pool with a diving board can increase homeowner's insurance rates since there is more risk of injuries and liability for pools with a diving board than for pools without.
While the rate increases vary depending on the policy, expect to pay more for insurance if you add a diving board to your pool installation. Or expect your insurance provider to cancel your coverage.
2. Installation Logistics — Requires a Lot of Real Estate
To install a pool with a diving board, pools must be deep enough and long enough to dive in safely. Diving pools require a deep end for the diving zone and are built with a sloping bottom that leads to the deep end.
The slope at the bottom of the pool must also be at a safe enough distance from the diving board so divers won't risk hitting their heads on the pool floor.
Diving pools typically need to be 38 to 39 feet long, which takes up a lot of backyard space.
Along with taking up too much valuable backyard space, diving pools also take more time to install and are overall more expensive.
3. Takes Up Usable Pool Area
The usable pool area is the space in a pool where swimmers can stand safely with their heads above water and their feet touching the pool floor. The usable area is also known as the play area since swimmers can easily play water games, like pool volleyball, without the need to tread water.
Most pool owners and their families spend about 75% of their time in the usable pool area, and only 25% of their time in the deep end. And since only 33% of a diving pool is usable pool area (with 33% being the slope area and 33% being the diving area), that means pool owners would spend the majority of their time in only one-third of the space.
So it doesn't make sense for pool owners to waste usable pool area space to accommodate a diving board. Instead, they could maximize the amount of usable pool area and have more space for playing in the pool.
4. They're Not As Good As They Used To Be
Diving boards used to be springy to launch divers higher into the air. But since diving board manufacturers want to make their products safer, diving boards are now stiff. And they are not aesthetically pleasing either.
5. Dangerous/Unsafe
While diving into pools is fun, it can also be dangerous for those who are inexperienced, notably for children. And since the whole point of having a pool in the backyard is to relax and enjoy yourself, the last thing many pool owners want is to worry about someone getting hurt.
So to avoid the added stress, pool owners are opting for safer pools that won't be as high-risk for injuries.
10 Diving Board Alternatives for Your Pool
You can still have a fun, entertaining backyard pool without a diving board. Here are luxury pool features that make for excellent alternatives to diving boards.
1. Faux Diving Rocks
Perhaps a safer alternative to diving boards, diving rocks are both decorative and fun to use for launching yourself into the pool. With so many styles and colours to choose from, you can add a diving rock that seamlessly blends into your backyard oasis.
Keep in mind that you will still need a deep end in your pool to safely dive off a diving rock.
2. Slides
A pool slide will provide endless hours of fun and excitement in the pool. Pool slides vary in shapes, sizes, and designs, so you can opt for straight, spiral, or something in between.
3. Rope Swings
Rope swings are a fun, unique alternative to diving boards and slides. If you're interested in adding a rope swing to your pool, consider suspending it from an apparatus that blends into your backyard landscape.
Examples include Mediterranean-style arches, wooden beams, or gunite trees.
4. Poolside Climbing Walls
Modular poolside climbing walls are a safe and fun alternative to diving boards. Using 3-foot by 3-foot fiberglass panels, the climbing wall design can suit a variety of pools.
Each modular panel can rotate into four different orientations, so you can switch up the rocks and create new rock-climbing challenges.
5. Water Features
Backyard water features are decorative while creating a gentle, relaxing sound of moving water in backyard oasis pools.
Waterfalls offer beautiful designs and sounds to pools, and can be small, large, elaborate, modern, or natural-looking.
Jet streams shoot water into your pool from high above, often on a wall, and can be illuminated for an entertaining display at night.
Fountains can create spectacular displays in and around a pool, sometimes even have patterns synchronized with coloured LED lights.
Bubblers are bursts of air and water, starting under the surface of the water to create a bubbling effect.
6. Basketball Hoop
A pool basketball net made specifically for aquatic use can be enjoyed by kids (and adults) of all ages. Water sports like basketball and volleyball can help you and your family make the most of your pool all summer.
7. Hot Tub
A hot tub is the perfect spot to relax and unwind after a long day. It can also help you extend your backyard enjoyment into the night and when the temperature drops and pool season comes to a close.
8. Cocktail Tables or Firepits in the Pool
Cocktail tables are tables built into the pool with built-in seating. They provide an excellent spot for eating, drinking, and playing games while being able to sit and enjoy the cool pool water.
Instead of a table, you can also opt for fire features, such as a firepit with seating in your pool, mixing fire and water for a spectacular view and warmth, especially at night.
9. Glass Pool Walls
Glass pool walls are ideal for elevated pools with a view as well as infinity pools. Glass walls take pools to a whole new level, providing a stunning appearance to your outdoor space.
10. Shallow Pool Lounge Area/Tanning Ledges
Also known as a Baja shelf, or tanning ledges, these flat, shallow areas in a pool are ideal for lounging in a chair while also being in the water. They also make for a great shallow area for children to splash around (provided the shelf doesn't drop off into the deep end).
If you were considering a pool with a diving board, think carefully about the drawbacks of building a diving pool. And also think about all the wonderful alternative inground pool water features that you can have instead.
You don't need a diving board to thoroughly enjoy your pool. You can have a luxury backyard pool oasis for the whole family to enjoy without the added costs and eyesore of a diving board.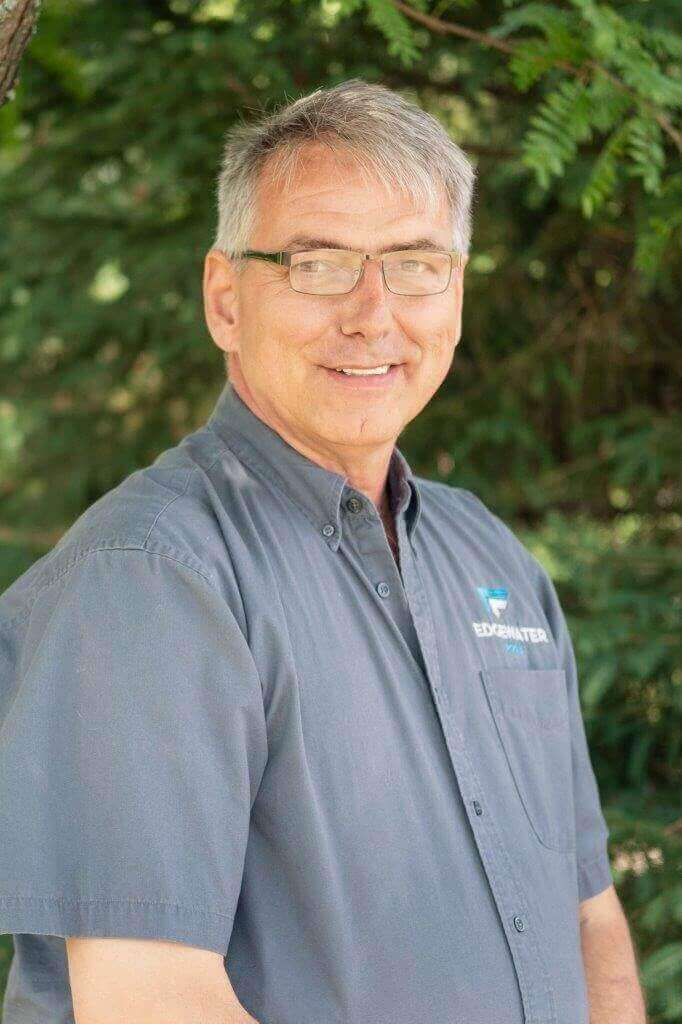 Bert Minor has been a part of the landscaping business for nearly twenty years and has gained an excellent reputation as an innovative and creative designer. In fact, several of his designs and projects have been featured in industry supplier magazines. An active and contributing member of the industry, Bert sat on various boards including the Ottawa Chapter of Landscape Ontario and the Landscape Ontario Provincial Construction Committee. Bert also contributed technical articles published in the Canadian National Landscape Association magazine. With a relentless pursuit of knowledge, Bert has attained several industry certificates in landscape design, landscape construction and with the PHTCC—Pool and Hot Tub Council Canada. Prior to joining the landscaping industry, Bert spent several years in management in the services sector primarily in a customer advocate role. His honesty and integrity and his ability to build and develop strong relationships with clients reflects that.