Back to Blog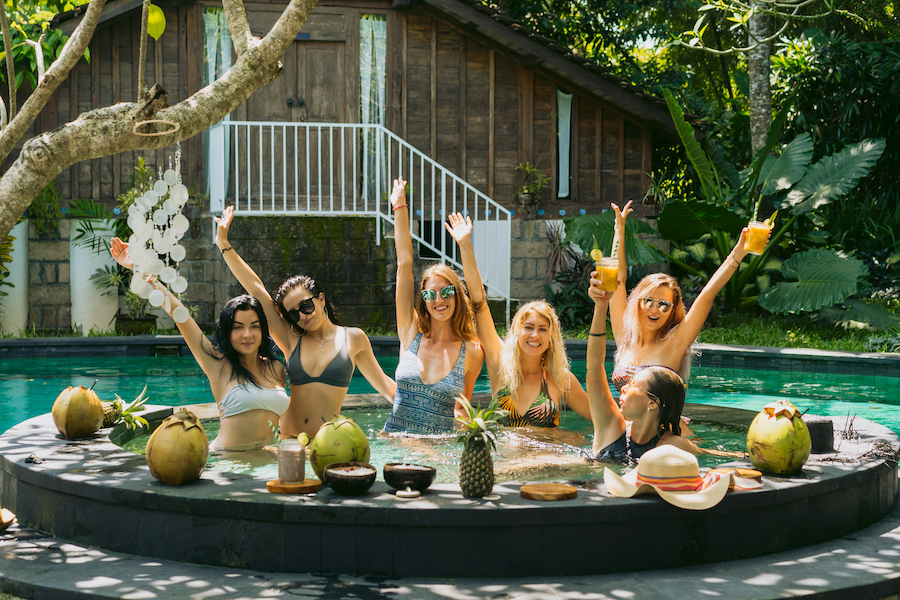 Cool Off with a Memorable Summer Party
Do you want to know the best way to create a fun summer memory while staying cool? Throwing a pool party can make your celebration the talk of your friend group. Do it right, and the party will be fun for everyone involved, including the host!
Yet, unless you know how to create a memorable party, you're bound to make some mistakes. We specialise in pools and share your passion for hosting the best parties. Below, we'll go into our top tips for throwing the ultimate summer bash. Keep reading if you want pool party ideas that will leave your guests raving!
Turn on the Lights!
Hosting the best pool party starts with setting the right mood. If you have fun pool lights, your guests will feel relaxed and ready to party as soon as they walk into the backyard!
There are several types of lights available. First, you can get in-pool lights that shine under the water when you turn them on. These come in white or a whole rotation of fun colours. They help you see what's going on in the pool while keeping the atmosphere playful!
You also might want to purchase lights for outside your pool. Having poolside lighting helps your guests see their way around the water and even contributes to the mood. Consider buying string lights to wrap around outdoor features or sticking solar-powered lights into the ground.
The Decorations
Next, consider what types of decorations you want for your pool party. To select the best ones, think about imitating the atmosphere of a beach at your poolside. For example, you can include tiki torches or palm tree-related decorations.
Floaties are another decorative must. They now come in a wide range of shapes and sizes. Buy quite a few of them and let your guests take their pick!
Awesome Features That Are a Must
Your decorations aren't the only features that make your pool party stand out from the rest. Instead, you should consider what awesome features you can add to your pool or the party as a whole.
People love unique pools. So, if your pool has waterfalls or a hot tub, all the better! Install these features into your pool so that guests can enjoy the water.
Music Is the Key
If you've ever been to a pool party without music, you know that tunes hold the power to change the entire atmosphere. So, having the right music is essential for a successful pool party.
For the best success, create your music playlist in advance. If you don't know what to add, take a look at the top trending songs. Music platforms also let you know if a song is explicit, so if needed, you can avoid playing music that's inappropriate for children.
Consider allowing your guests to add music to the playlist as well. That way, you can ensure the songs are to everyone's liking!
If you have some extra cash to spend, think about hiring a professional DJ.
Have a Cocktail Bar
If you're hosting a pool party for people above the legal drinking age, having a cocktail bar is a great way to take your hosting skills to the next level.
Cocktail bars don't have to get expensive, either. Rather, you can buy a couple of bottles of great-tasting liquor and learn to make unique, summery drinks on your own.
You can also hire a bartender if you prefer someone with a little more experience in mixology!
Create a Photo Point
It's the age of Instagram, so the best way to generate pool party buzz is to create a spot for taking photos!
You can create the perfect Instagram wall by using fun, patterned, and creative backdrops. Have some props on hand that your guests can pose with!
Cozy Lounge Chairs
Chances are your guests won't want to be in the water the entire time. When they decide they're ready to get out, it's best to have cozy lounge chairs waiting for them!
Arrange these chairs around a table so they can easily place food or drinks on it while they talk. Have couches and chairs face each other to encourage conversation.
Have Enough Towels
Nothing ruins a pool party faster than getting out and discovering you have to drip dry! Solve this problem by making sure you have enough towels for everyone beforehand.
Run a load of laundry before everyone arrives to get the towels clean and warm.
Make Sure Your Pool Is Onboard
If you haven't checked on your pool's condition in a while, now is a good time to do it.
Go out and make sure it's been properly maintained. Check the chemical balance of the water to ensure it's safe to get in. It's best to do this several days before the pool party so you can add chemicals if you need to. Examine your water pump to ensure it's working in the right manner.
If you want someone to come and craft a top-of-the-line pool for you, check out our services!
Pool Party Checklist
Here's everything you need to check before your pool party:
Is the pool safe?
Have you childproofed everything (this includes taking measures to ensure kids can't enter the pool unsupervised)?
Do you have decorations?
Have you thought about food and drink?
Do you have activities for your guests?
Are your guests aware of your pool rules (for example, no diving)?
Host a Pool Party with the Best Pools
If a pool party is just a distant summer dream because you don't have a pool yet, get started on planning your backyard pool!
We offer full-service pool installation in Ontario. Starting with a consultation, we'll guide you through the entire process of getting a pool and supply the workers and materials necessary.
Want to know more about what we can do for you? Contact us today!