Back to Blog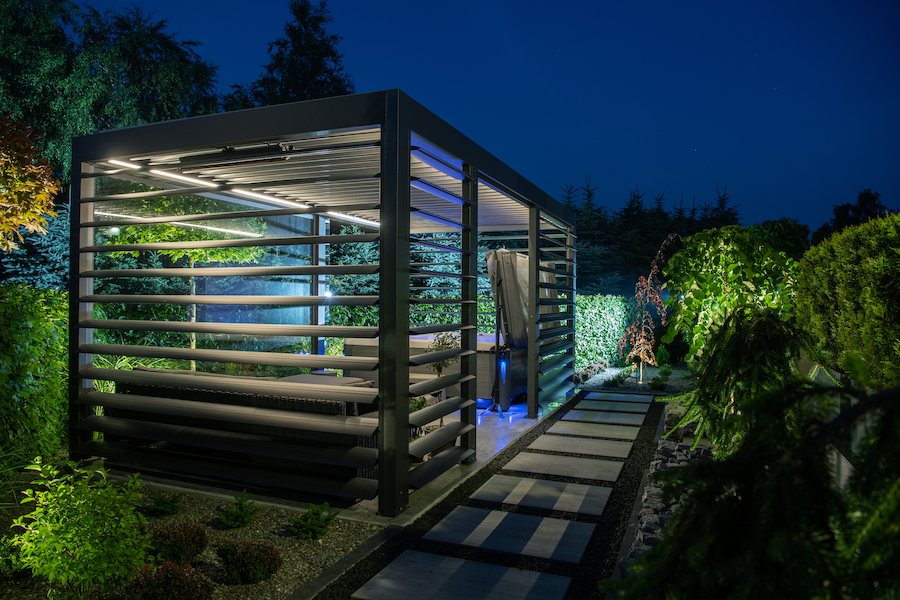 Pool Upgrades That Will Change Your Life
In the last year, Ontario has seen nearly 7,000 new swimming pool permits, a 53% increase. The homeowner's urge to add pools to their backyards was in part motivated by the COVID pandemic.
Whether you're building your first pool or renovating your pool area, Edgewater Pools has your back. We decided to share some tips on our favourite topic – below you can find out how to transform your space into a backyard spa. Nothing can stop you from getting the relaxation you need anymore!
How to Turn Your Pool Area Into an Oasis for Entertainment
Have you ever dreamed of an indulgent wind-down spa? What if it was right in your backyard?
With our swim spa backyard ideas, you are just one dip away from that becoming your reality. Learn how to create and accessorize for the perfect outdoor oasis.
Redo Your Decking
Your deck is the centrepiece of your backyard spa. Decks, especially wood decks in Ontario, tend to wear out fast since they are exposed to extreme temperatures all year.
Redoing your decking will provide a new and clean entertaining space. Add some lounge chairs, side tables and a grill. There you have it, the perfect space to read, gather, and entertain. If you want your deck to stand the test of time and lighten the load on maintenance, consider switching to a composite.
Add Water Features
Add a waterfall, jetstream or sprinkler to your pool. These water features functionally may benefit users with a nice massage. Visually, they make your pool look luxurious.
Build a Pergola
A pergola is a large overhead structure that acts as a shade. It is similar to a gazebo.
It's an excellent investment to allow people to lounge without the elements or hot sun interfering. You can also decorate it with vines for celebrations as pergolas make backdrops.
Add a Spillover Spa
Connecting your hot tub and pool makes it easy to transfer between them for some hot and cold therapy. It also increases the square footage of your pool which looks more beautiful and adds value to your home.
Have a Quality Sound System
No backyard oasis is complete without a sound system. These are so easy to install. You can opt for speakers outside or also inside your pool. Listen to guided exercises, relaxation, or even your favourite podcast while lounging.
Safety Accessories
Unfortunately, having a pool increases your at-home risk of injury- so much to the point that it increases your insurance bill. The best thing to do is be proactive and prevent an injury from happening by using the suggested safety accessories mentioned below.
Fitted Covers
These are a must for any backyard pool and spa. Every year, thousands of people fall into pools. Fitted covers ensure people don't accidentally fall in.
They also keep leaves and bugs out of your water for easier cleaning.
Backyard Spa Gates, Rails, and Non-slip Surfaces
Another safety hazard is walking around the slippery outline of your backyard spa. It is imperative to add rails and non-slip surfaces to prevent you and your guests from falling.
Make sure to add handrails to your pool and hot tub too. Fencing your hot tub with gates prevents kids from entering the hot water without supervision.
Signage
Even if this is a backyard pool and spa, it's essential to clarify your house rules. Highlight important safety measures like no running, no drinking, children must be supervised, and whatever will make you comfortable when guests are over.
Locks
Just like you lock your house door, lock your pool/spa gates. Thefts can hide in your backyard if it is not adequately secured. ??? think this should be restructured.
Therapeutic Accessories
Therapeutic accessories can be added to your water to create a truly spa-like experience. These accessories have skin and wellness benefits and enhance the space with beautiful aromas.
Choose an organic essential oil or blend that makes you relax. Certain scents benefit inflammation (Hinoki Cypress) or skin (Rose Otto). Add just a few drops to go from a basic hot tub to a therapy pool.
Recreate the ocean's healing properties from the comfort of your own home. Add some spa salts to balance pH, relax muscles, and remove toxins from your body.
Water conditioners can make your spa water less harsh and hydrate your skin.
To create a beautiful, therapeutic atmosphere, fill your space with plants and flowers. Greenery has been proven to reduce stress levels. Being surrounded by a thriving garden can help you relax.
You can also grow your own flowers for cut stems and decorate your outdoor oasis with fresh-cut bouquets.
Accessories for Comfort and Usability
The accessories are what make the spa truly your own. Customize your space and create a safe and comfortable environment by adding a few things. Here are some ideas:
Lights
A well-lit area is a safe area.
A fun backyard spa idea is to throw a sunset swim. But to keep everyone safe, ensure you have proper lighting so people can walk and see clearly at night. Lighting is also helpful in creating the right ambiance.
Built-in Seating
Built-in seating on your deck can make it easy to enjoy year-round. Instead of worrying about moving furniture indoors during the winter, built-in seating is a luxurious weather-resistant option.
It creates a Nordic spa feel. You can also add a fire pit for guests to lounge around.
Spa Cushions and Seating
Spa cushions are unique, water-resistant cushions that make sitting in your hot tub or pool more relaxing. Instead of lounging on hard cement, add some spa cushions.
These also support posture alignment underwater and are great for children.
Privacy Screens
Didn't invite a particular neighbour to the party?
That's one but not the only reason to enclose your space with privacy screens. Privacy screens are a helpful way to prevent people from prying into your business. You can enjoy yourself without worrying about who is watching.
Privacy screens also work to shield unwanted animals and the elements. They're especially good at blocking that Ontario breeze.
If you want to get a taste of privacy screens, try portable folding screens. Or you can go for permanent fencing.
If the idea of a giant fence around your spa sounds less than glamorous, you can use greenery to build a stunning fence. Make sure to landscape with tall evergreen trees and plants so they won't disappear in the winter months.
The Takeaway
Creating a backyard spa is a lot of work, but once it's finished, you'll spend more time in your backyard than you do in your own home! Despite Ontario's cold, you can enjoy your hot tub and deck year-round, so it's not just a seasonal investment.
To get started on your dream backyard pool and spa, contact us today!