Back to Blog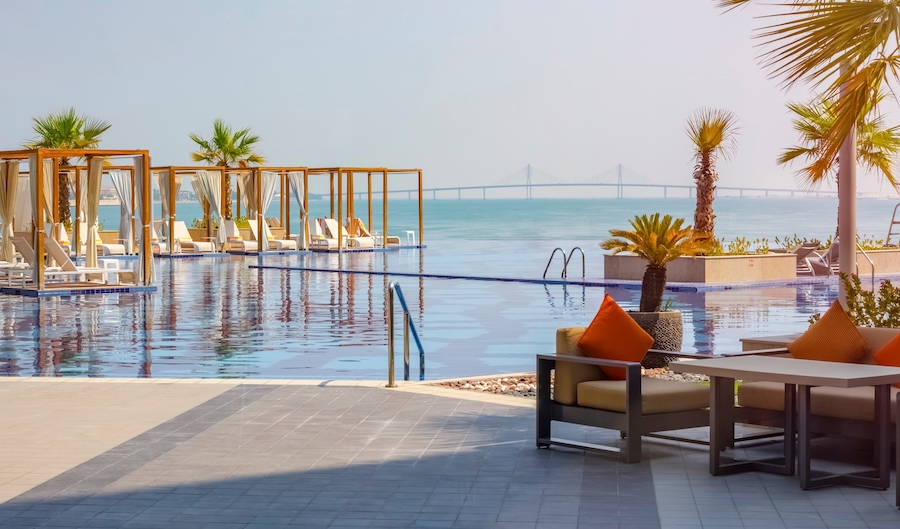 Is It Worth It?
Ottawa saw a spike in pool permits during 2020 by approximately 80%. Many companies are struggling to keep up with the demand for constructing in-ground pools.
Harsh winter months can make it challenging to build a pool in the cold, and companies are working non-stop to install pools during good weather. We have put together a complete guide on everything you need to know if you have considered building a pool.
FAQs About Building a Pool
For many, building a pool can help boost your home's value and add luxury. However, there are various specifications to consider, such as heated pools, accessories, materials, and more. Here are some of the more common FAQs about building a pool.
How Much Does It Cost To Build a Pool?
The cost of a pool primarily comes down to materials. For example, vinyl will be cheaper than concrete. Fibreglass can fall on either end of the spectrum but is cheaper to maintain than concrete. If you want additional features, pool benches, tanning ledges, it will tack on to the cost.
For the best pool features, you want something that accentuates the natural landscape. The natural stone surrounding your pool can cost almost as much as your pool but can completely transform your backyard. Additionally, waterfalls and fountains typically cost thousands.
Lastly, don't forget about the shrubs and greenery. Building a pool is one thing, but the scenery can make it stand out from others in your neighbourhood. New pools cost anywhere from $60,000 to over $120,000. The high-end costs of building a pool are usually associated with pool features, add-ons, site access, etc.
What Access Do You Need To Build a Pool?
The greater the available access for the larger excavation equipment necessary to build a pool, the cheaper your pool installation will cost. In a lot of cases, it really comes down to installation time. Site obstructions or site access limitations mean more labour and equipment material costs. A site with seven to eight feet of access is the norm. Tighter access could add thousands to the cost of the project. Conversely, a corner lot where you can back a dump truck to the dig site could save you thousands as well.  Typically, you will need a pool enclosure permit before building a pool. Most cities have restrictions on the size of your pool and the area surrounding it. Most pool companies will submit a pool permit to the city for you. You can expect a few hundred dollars in most areas for a pool permit cost.
In general, most pools should encompass approximately one-third of your yard. Average pool sizes in Canada are 20 to 30 feet long and 10 to 15 feet wide. That's really only a guide, however. The best advice is to really consider how you're going to use your yard before choosing a pool size. You spend most of your time outside the pool. Paying attention to how you will use the backyard is critical to a successful project. Try working with a designer to plan a project that suits your particular family needs to guarantee the oasis of your dreams.
How Long Does It Take?
In average years, companies could give you a definitive answer on how long your new pool construction should take. The COVID-19 pandemic has disrupted many supply chains. Access to specific materials may be more challenging for landscapers and construction workers.
In general, Edgewater Pools aim for completed projects within 8 to 12 weeks. If materials are on backorder, your project may take a bit longer.
Additionally, the time of year plays a role, and summers are often much busier. Plan and book with your contractor before the temperature starts warming up. Most pool companies are booking ahead six months or more so it's smart to plan accordingly.
The Most Expensive Part of Building a Pool
The most expensive part for most swimming pools is the material used. However, the size and type of pool also play a prominent role. The larger your pool is, the more expensive it will be, and inground pools cost more than above-ground. If you want your pool to last a long time, concrete is one of the best options. 
Is it Worth it?
In short – yes! Pools can add value to your home, increase curb appeal, and be a great place for social events. In a day and age where social distancing and lockdowns have become a new sense of normal, many are turning towards their backyard. A pool can be an excellent choice for family parties or a nice reprieve from the stuffiness of working inside all day.
When it comes time to sell your home, pools do add value. In Canada, it can increase your home's value by as much as 28%. The key to maximizing your investment is designing a project with a maximum appeal – both aesthetically and functionally. The more time you spend planning, the more chances of a sought-after, successful project.
Should I Have a Heated Pool?
Heated pools are a must-have in Canada. Since the swimming months are shorter than milder climates, a heated pool can extend your swimming season.
Even when it is cooler in the summer, a heated pool can ensure that your pool is always at a comfortable temperature. Unless you enjoy polar plunges, a heated pool is more appealing for homeowners, especially if you are looking at selling down the road.
Things To Know Before
Hopefully, you should have a better sense of what type of pool you need. The cold winter months of Canada don't have to limit you from enjoying a pool! However, before you get started, here are a few more things you should consider before taking the leap.
Pool Features Are Important to the Overall Enjoyment
Pool features are one of the main reasons your house can increase in value. The overall aesthetic appeal can make your backyard seem more inviting, seem like a  place everyone wants to hang out in. Technology upgrades such as LED lights and automatic water features, fire bowls, or pool benches can give your home a sense of luxury and entice your family to spend quality time outdoors.
Choose the Right Pool Company
The right pool company can make all the difference in your pool building experience. You want a company that has the experience and expertise to work with you on all aspects of your project. Especially if you're considering a multi-faceted project, you want a company that can provide design services, carpentry, masonry, lighting, etc. An experienced company will be able to work with you and provide the services you need no matter what options you choose for your project.
The Takeaway
A trusted Canadian pool company can answer everything you need to know about pools. At Edgewater Pools, we specialize in pools, design, landscaping, and more. After installation, we work hard to maintain your pool and keep it in tip-top shape. Don't wait any longer! Book a consultation today and get started with the house of your dreams.