Back to Blog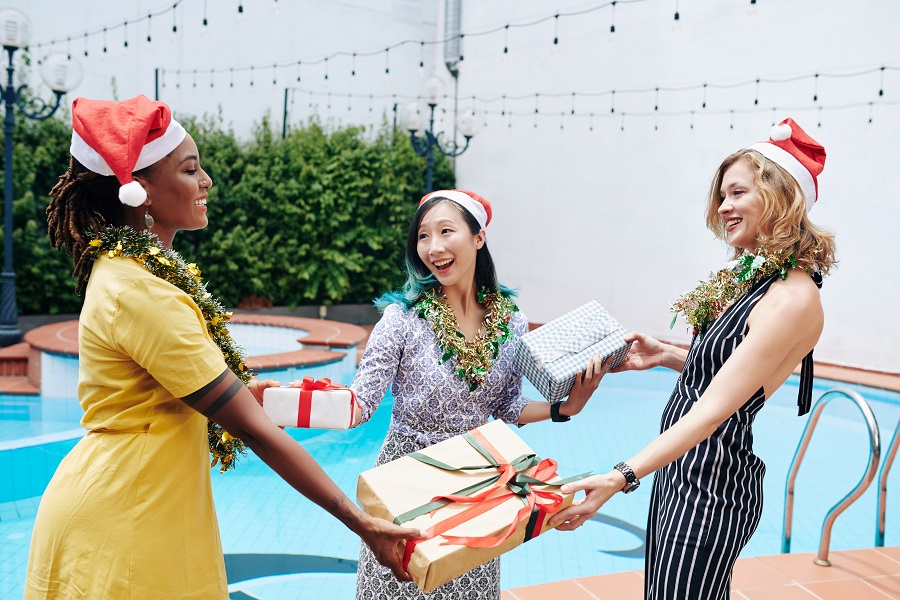 Great Ideas They'll Love
With the holidays just around the corner, it's time to start thinking up gifts for your loved ones.
If you know someone that owns a swimming pool, then you can bet that a pool-related gift will go over pretty well. But, if you're not someone that knows the ins and outs of pool life, it can be difficult to come up with good gift ideas. That's why you've got us here to give you a hand.
At Edgewater, we know a thing or two about how to choose gifts for swimming pool lovers. When you explore this holiday gift guide, you'll find the coolest swimming gear that all make for incredible gifts. Don't overthink gift-giving; if your loved one doesn't stop talking about their awesome pool, then read on and buy them a gift that they're going to use.
Pool Storage
Pool owners always have a lot of stuff lying around, whether it's toys for the kids to play with, pool noodles, goggles, or maintenance tools like hoses, skimmers, and chemicals. One of the best gifts you can possibly give your pool-loving friend or loved one is the gift of organization because having to clean up the area around the pool can be kind of stressful.
There are loads of pool storage products on the market that'll help them keep their pool tools organized and out of sight. With this, they won't have to worry about objects laying around the deck, lawn, or garage. That means fewer tripping hazards and things blowing into their neighbour's yard.
Pool Accessories
Every pool owner knows how easy it is to go down the rabbit hole of pool accessories. Each member of the family is going to want something a little bit different to enhance their swimming pool experience and there are a lot of pool accessories out there. As a gift buyer, you've got a lot of options but think long and hard about how these pool lovers use their pool before choosing something.
If they hold a lot of pool parties, or just enjoy lounging around with some relaxing summer tunes, then you can get them a waterproof outdoor speaker from JBL to keep poolside for enhancing the mood. A floating basketball or volleyball net is fun for the whole family, while a floating pool lounge (with a drink holder) is perfect for the solitary swimmer that just wants to have a drink and float around for hours on end.
Maintenance Tools
There's always one person that ends up taking the maintenance side of owning a pool the most seriously. These people deserve gifts around the holidays too, so find some quality maintenance tools that they can use to make their life a little bit easier in the spring.
One of the best things that you could possibly buy if you've got the money, is an automatic pool cleaner. These little robots will roam around your pool by themselves, sucking up all of the debris that a pool owner would otherwise have to clean themselves. They also have small rotating brushes that can scrape off algae and other stubborn substances out of drains without damaging anything.
Maintenance Service
If you're really keen to help with the maintenance of the pool, then you could even hire a maintenance service to do the cleaning for them. Opening up the pool in the spring and closing it in the winter come with their own set of time-consuming maintenance duties. A paid maintenance service will come on a regular basis to handle all of these duties and more, relieving your loved one of these tasks altogether.
Solar Powered Chargers
When you're out in the pool, enjoying some music, an audiobook, or a podcast, there's nothing worse than having your phone die and having to run inside to charge it. This is why solar-powered, waterproof chargers are a great addition to any backyard pool area.
One of the only downsides to being out in the pool is not having access to electricity, but that all changes with solar power. The same wonderful sunlight that you're soaking in to get a tan can be used to charge up your devices and keep the party going all day long.
A Saltwater System
Saltwater pool systems have become incredibly popular over the past few years. These work by using a salt cell generator to separate the chlorine and sodium by way of a process called "electrolysis". So, what's the difference between a regular pool and a saltwater one?
A saltwater pool has a reduced amount of chloramines as a result of the electrolysis. These are a byproduct of the oxidation in the pool water and the biggest cause of the chlorine smell and irritation that some people experience when swimming. If your pool owner friend has expressed interest in a saltwater system, the holidays are a perfect excuse to spoil them.
New Lighting
Pool lights can breathe new life into the pool area, allowing for an exciting nighttime atmosphere, perfect for parties or a relaxing evening swim. You can even get Bluetooth speakers that double as floating pool lights to really bring good vibes.
Pool Slide
A pool slide is something every child dreams of having, so this gift can really win you some points with the young ones. It might feel a bit presumptuous to pay for a commercial plastic slide, especially if the adults are particular about the way the pool area looks, so go for an inflatable slide that can be tucked away when it's not in use.
Gifts for Swimming Pool Lovers In Your Home
Do you have a spouse or some children that just won't stop talking about wanting a pool? Win parent of the year and make your family's dreams come true by giving them a pool that fulfils all their desires. The benefits of having a pool are too many to name here, but around the holidays, it's all about making your family happy.
Make this Christmas one to remember and visit our site to learn more about what we do. Edgewater Pools is Ottawa's premier pool designer and installer. We'll work with you to give you a pool that works well with your home and gives your family everything it could possibly need.
Of all the gifts for swimming pool lovers out there, a pool would take the cake. Contact us to start talking about your new pools today.